This Week it's all about Cake …………..
Acorn Class hope you enjoyed eating their gingerbread men – they had great fun making them.
When Beech Class were planning our topic one of the activities the children asked to do was bake cakes. Thankfully we didn't cause a 'Great Fire of Llangrove' when we baked our cupcakes ready for Macmillan Coffee Morning.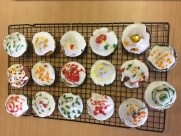 Oak Class have used mannequin models to show movement of astronauts in space that we will now use to create our own artwork. We also had a very 'yummy' science lesson – using biscuits to show the different phases of the moon.