HMFA Athletics and League Table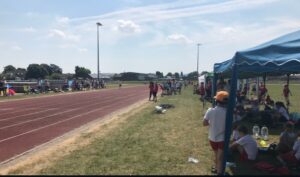 The HMFA Athletics event was the culmination of a very successful year for Llangrove CE Academy in the HMFA Sports League. Held at the Hereford Leisure Centre running track, our Key Stage 2 children competed in an array of running events against seven other schools in the Federation. A total of four gold, five silver and four bronze secured us third place in the event. A HUGE well done to all our participants! 
 Llangrove finished the 2017-18 HMFA League in a fantastic fourth place. See table below. A big congratulations to all our Key Stage two children! 
HMFA League standings after all five events
1st – Sutton – 37 points
2nd – Scudamore – 34 points
3rd – Marden – 33 points
4th – Llangrove – 23 points
5th – Canon Pyon – 19 points
6th – Kings Caple – 17 points
7th – St Weonards – 16 points
8th – Pencombe – 13 points