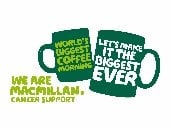 MacMilllan Coffee Morning…
The hall was filled to the brim and bellies were soon full of all the lovely cakes that had been made and so kindly donated. We raised an amazing £223.89. Congratulations to Sunny who correctly guessed the length in the vegetable roll competition as 49 cm.
Thank you all for coming and for all your support.