Hello, I've just donated to Amy Goodwin on JustGiving!
We are delighted to say Amy Goodwin was totally awesome yesterday whilst throwing herself out of a perfectly good plane and tandem parachuting.
She has already exceeded her fundraising target for Llangrove CE Academy PTFA and we thank her so much for her efforts and courage.
We would also like to thank everyone who has already donated to support our school.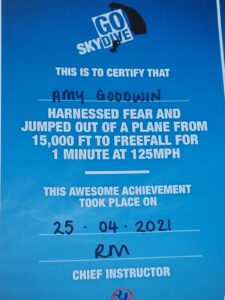 If you have not yet donated and would like to, Amy's JustGiving Crowd funding link is
https://www.justgiving.com/crowdfunding/amy-goodwin-1?utm_id=1&utm_term=5WD3wRxqg